What is the effect of the degree of alcoholysis of polyvinyl alcohol on textile sizing?
Views: 29 Author: 艾彩霞 Publish Time: 2019-05-05 Origin: Site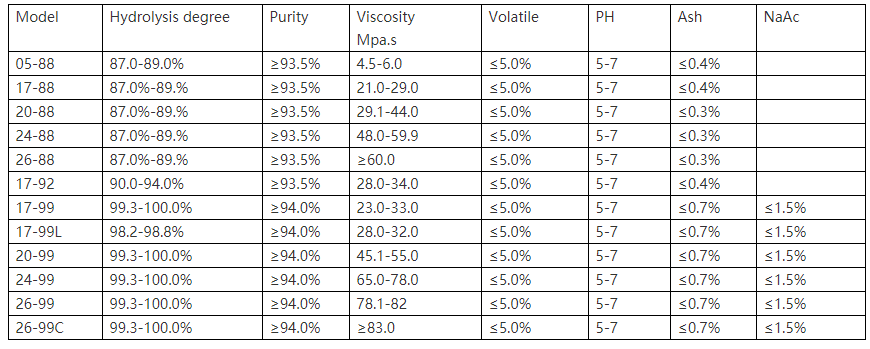 The degree of alcoholysis has an effect on the water solubility, viscosity, adhesion and serosity of the slurry.
1. Water solubility:PVA with fully alcoholysis is poor in water solubility,for example,PVA with Alcoholysis degree more than 99%(Mole fraction) begin to dissolve when it is heated above 90℃;PVA with Alcoholysis degree 97-98% (Mole fraction) begin to dissolve at 80℃,and can be completely dissolved in about 2-3 hours;PVA with Alcoholysis degree 85-88%(Mole fraction) can be dessolved in cold water.
2. Viscosity:Complete alcoholysis PVA,which with alcoholysis degree 98-99%(Molar fraction),has a high viscosity;PVA with alcoholysis degree 87-89%(Molar fraction)has a low viscosity,because it has a good water solubility and has a stronger solvation in water.
3. Adhesiveness: PVA with complete alcoholysis has good adhesion to pure cotton, and partially alcoholated PVA has good adhesion to hydrophobic fibers.
4. In terms of softness, elongation and permeability of the serosa, the partial alcoholysis PVA is superior to the PVA of complete alcoholysis.